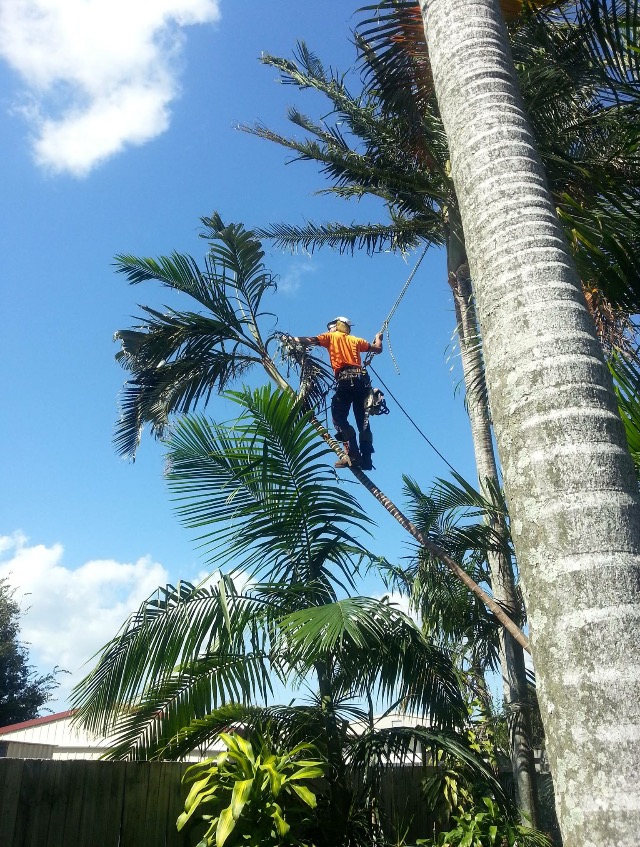 Palm Tree Removal Redcliffe
Looking for palm tree removal in Redcliffe and surrounds? If so then All Tree and Palm are the ones to call! Palm trees give a holiday feel to any coastal, residential or commercial property. Their lush green foliage and height make them well suited to the Redcliffe Peninsula Coastal areas.
But those fronds turn shabby and dangerous if left to grow out of hand. Dead or dying, or stuck up high, they become hard and heavy; a real hazard when they drop. Seed pods and fruit lure plenty of unwanted climbing or flying creatures too.
Palms fare well with regular maintenance. That's where All Tree and Palm Trimming and Removal can assist. Twice a year should keep your palms in check. Our advice is a trim and clean out before winter seeding, then in early summer. A clean up of any seed pods, fruit, old fruit stems, or dead fronds will improve a palm's health and lifespan and keep the spaces below safe from any dangerous falls. Ensure that you call us today for the best palm tree removal in Redcliffe!
Palm Tree Trimming Redcliffe
If you have palms, or wish to improve the way your property looks without damaging any trees in the process, we are the skilled and qualified palm tree specialists for cleaning and trimming.
We'll scale and climb safely, without wounding or damaging the tree or, if needed, bring in our specialist equipment:
Palm cleaning and trimming
Non-invasive climbing techniques
Sometimes palms removal is required. They may be diseased, too large, adversely affecting surrounding space, their roots problematic or obstructive. We're here in Redcliffe:
Palm tree cleaning and removal
Palm tree stump removal and grinding
Palm tree root removal
Palm tree thinning
Debris removal
to book no-obligation quotes and to get rid of overgrown trees, thick, protruding branches etc. This will give a better view to your landscape.